The ACE C18-PFP phase is a longer-chain pentafluorophenylalkyl phase, which adds pentafluorophenyl (PFP) selectivity to C18-like retention.  C18-PFP retains analytes via hydrophobic, p–p, dipole-dipole, hydrogen bonding, and steric (shape-selective) interactions, and shows increased retention for analytes with electron-donating groups.  C18-PFP is an extremely stable and ultra-low bleed phase for LC-MS analyses, and is available in HPLC and UHPLC configurations, including nano, capillary, analytical, and preparative dimensions.
ACE C18-PFP has complementary selectivity to ACE C18, C18-AR, C18-Amide, CN-ES, and SuperC18 phases, and is fully wettable with low or no organic modifier in the mobile phase. When used in a systematic method development scheme, these highly selective phases can make the separation of complex samples much more efficient and effective.
Advantages
Ideal column choice for method development when  C18 retention and alternate selectivity is needed
Complementary retention and selectivity to ACE C18, C18-AR, C18-Amide, CN-ES and SuperC18 bonded phases
Useful for analytes that contain electron-donating groups:  -NH2, -NR2, -OCH3, -OH, -alkyl, -phenyl/aryl
Compatible with 100% aqueous mobile phases and provides increased retention for polar analytes
Stable using low and mid pH eluents (pH 2–8)
Ultra-low bleed for UV-VIS and LC/MS compatibility
High efficiency 2 μm, 3 μm, 5 μm and 10 μm particles for UHPLC, HPLC and preparative separations
Figure 1: Catecholamines can be retained and separated under 100% aqueous conditions with no ion-pairing reagents on ACE C18-PFP
In this example, ACE CN-ES provides significantly more retention than the shorter chain cyanopropyl phase (ACE CN), and it offers comparable retention but different relative retention compared to the ACE C18 phase.
Figure 2: ACE C18-PFP can separate various nucleosides, nucleoside bases and B vitamins using 100% aqueous, isocratic conditions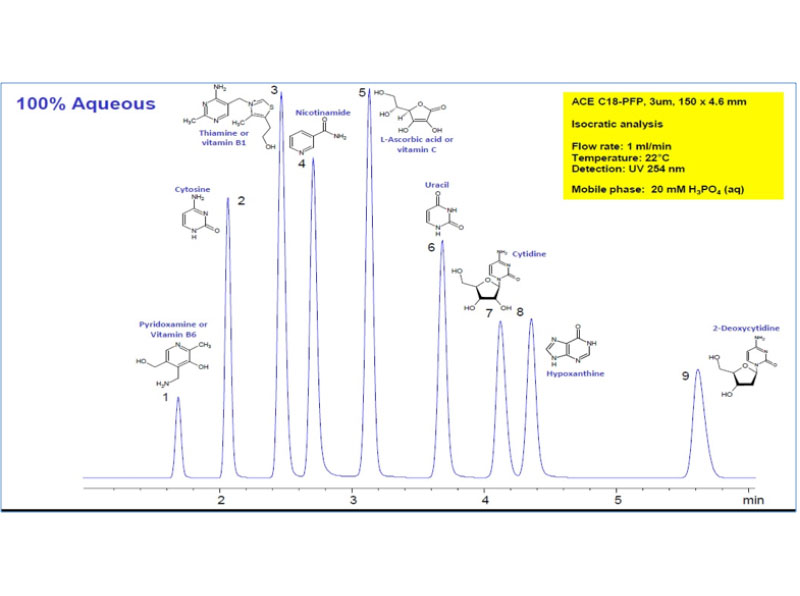 Figure 3: This separation of aflatoxins is carried out isocratically using ACE C18-PFP and fluorescence detection
Care and Use Sheets Available on Request (email
hplc@mac-mod.com
)